In August 2017, we at Pearl River Dental group had the joy of welcoming our new dentist, Dr. Antoinette Liles, into our practice. We could not be more thrilled to have Dr. Liles leading our dental team. She is now available to see patients Monday – Friday 7am – 7pm and is even available to see patients on Saturdays from 8am – 12pm. Dr. Liles is active in the Pearl community by participating in Pearl Chamber of Commerce functions.
Dr. Liles has had formal education from The University of Mississippi Medical Center's School of Dentistry. She is an active member of the American Dental Association, Mississippi Association of Women Dentists, and American Association of Women Dentists.
Dr. Liles attends several continuing education courses annually, ensuring that she can provide the best up to date services to her patients. She is very committed to providing a comfortable setting and quality care. Dr. Liles and her husband, Trey, are both members of the dental profession and currently reside in Brandon.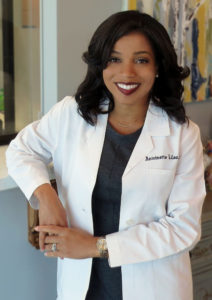 Our new dentist has a passion for providing quality, comprehensive dental care to the patients at Pearl River Dental. To schedule an appointment with Dr. Antoinette Liles, please call Pearl River Family Dental at (601) 936-6161.